Biodiversity & Terrestrial Habitats
Biodiversity and Terrestrial Habitats is an area of focus for the Sustainable Development department eco-based approach to environment and resource management. Biodiversity includes ensuring that there are diverse species and plants and animals within our environment. Various programs and projects support greater biodiversity initiatives with the City of Greater Sudbury as well as Glencore.
Here are some highlights of our projects:
Interactive Aquatic Invasive Species Map – Development of an interactive invasive species map for the Anishinabek Ontario Fisheries Resource Centre, where First Nation communities could identify the location of aquatic invasive species in their community, while also having the option to report any aquatic invasive species found.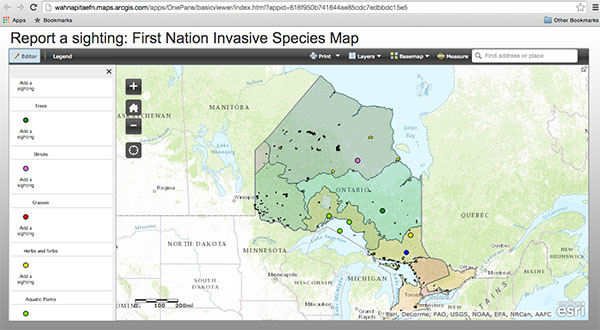 CLICK HERE to view the full Interactive Invasive Species Map.
Interactive Biodiversity Map – We are working on the development of an interactive biodiversity map that will be showcased on our website. The Biodiversity Map will allow community members to add sightings of wildlife in our area so that we can further enhance and protect these species. To be launched AUGUST 2015.-
Biodiversity Study - Funded through Canadian Ontario Resource Development Agreement (2014), we will be conducting terrestrial and aquatic biodiversity studies to determine the different types of flora and fauna in the WFN.
Native Plant Study – We collected various species of plants and vegetation found within our community. We created a book with all the specimens and identified their Anishinaabe names and uses.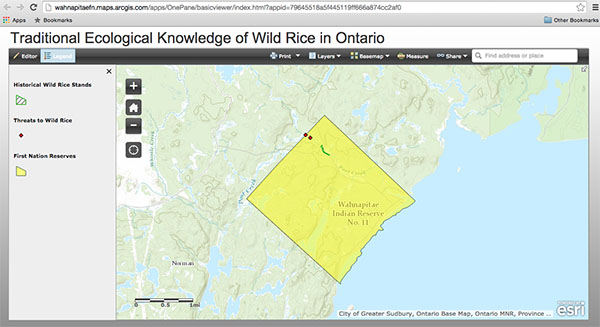 CLICK HERE to view the full Interactive Traditional Ecological Knowledge of Wild Rice in Ontario Map.