Community Information
100 Years of Loss
Explore the history and legacy of the Residential School System in Canada at the 100 YEARS OF LOSS exhibition.
WHERE: College Boreal, Sudbury, ON
WHEN: April 4-6, 2018
Visit www.legacyofhope.ca for more informatioifon our educational programs and to order resources.
Visit www.missinghistory.ca to see what students are saying about 100 Years of Loss.
---
Community Information Session
When: Thursday February 1, 2018
Time: 6pm
Where: Centre of Excellence - Maan Doosh Gamig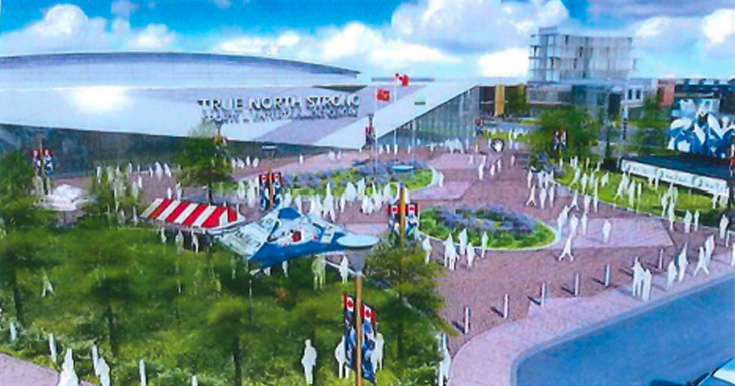 TRUE NORTH STRONG EVENT CENTRE
Dario Zulich is coming to the Community to give a presentation on the New Event Centre on the Kingsway. Chief and Council Would like to invite Staff and Community Members to come out and attend this event.
Thank You,
Chief and Council
---
Bill C-61 receives Royal Assent
ANISHINABEK NATION HEAD OFFICE, Nipissing First Nation (December 15, 2017)—On behalf of the Anishinabek Nation, Grand Council Chief Patrick Madahbee would like to extend congratulations to the 23 Participating First Nations and the Kinoomaadziwin Education Body (KEB) on the Royal Assent of Bill C-61, the Anishinabek Nation Education Agreement Act.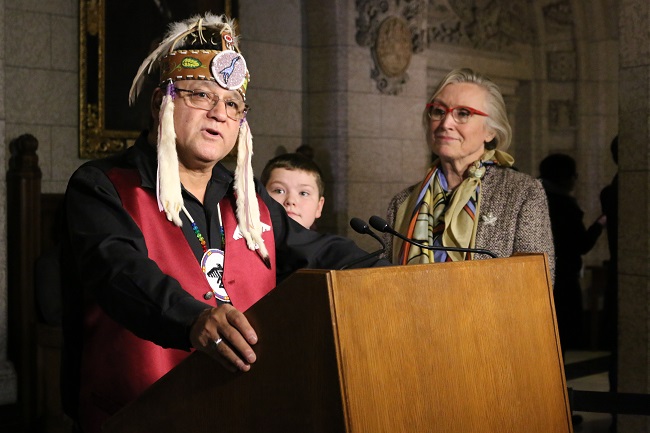 Photo by Laura Barrios
"I am elated that Deputy Grand Council Chief Glen Hare, KEB Board members, and technical support staff successfully steered this historic bill through the final stage of Canada's Legislative process," said Anishinabek Nation Grand Council Chief Patrick Madahbee. "For so long, having our own education system was a dream, but today, we take a step forward on our journey to building a better education and realizing a better future for our Anishinabek youth."
---
Grand Chief congratulates Kelly Crawford, Education Director for the Anishinabek Education System
ANISHINABEK NATION HEAD OFFICE (Nipissing FN) Oct. 30, 2017 – Anishinabek Nation Grand Council Chief Patrick Madahbee congratulates the newly hired Education Director for the Anishinabek Education System.
Kelly Crawford, citizen of M'Chigeeng First Nation, will begin her new role at the end of November. Crawford had positions as the Education Team Lead overseeing Grades K to 12 At Kenjgewin Teg Educational Institute in M'Chigeeng and she is a faculty liaison with Queen's University.
"Kelly Crawford is an excellent choice to lead our exciting education initiative towards fulfilling our dream of education for our Anishinabek children under Anishinabek authority," says Grand Council Chief Patrick Madahbee.
CLICK HERE to read the full media release.
---
Natural Resources Industries Working Group
TO: Wahnapitae First Nation members and Community Members
FROM: Chief and Council
DATE: Sept 26, 2017
RE: Natural Resources Industries Working Group
Wahnapitae First Nation Chief and Council are inviting a youth and an elder that may be interested in joining the newly established Natural Resources Industry Working Group (formerly Mining Industry Working Group). We are looking for 1 youth representative (18 or older) and 1 elder to sit on this committee.
The purpose of the committee is to help build relationships with various industry partners in natural resource developments (mining, aggregates, forestry, etc ... ) to negotiate benefits for the community.
Regular monthly meetings will be held in the evening at the Centre of Excellence (259 Taighwenini Trail) and participants will receive an honorarium for each meeting.
If you are interested, please submit a letter of interest to the Executive Director, George Ransom, at the Centre of Excellence, or email it to george.ransom@wahnapitaefn.com.
In the letter, please state which role (youth or elder) you could fill and a brief description of what interests you about participating, what you can bring to the committee, and/or what you would like to learn from the experience.
Please submit your letter of interest by October 9, 2017.
Miigwetch / Thank you,
George Ransom,
WFN Executive Director