Community Information
---
Update: Wahnapitae's Community Energy Plan
As you may remember Wahnapitae is working to create a Community Energy Plan. Several of your neighbours have contributed their energy (electricity, fuel oil and propane) billing information to Marilyn. This, along with information gathered from Hydro One (electricity provider) is being used to create a community energy baseline. The baseline determines how much energy the community used from 2013 to present. This information will help us to compare the community's energy use to the energy use in surrounding communities. As we move forward, this information can be used to measure the success of installing energy conservation measures or renewable energy projects by measuring the change in annual energy use.
---
Ratification of self-government agreement on education
Dear Chief Roque and members of Council:
As you are aware the Anishinbek Nation is on the final stretch to ratification of self-government agreement on education. It was years ago that Grand Council provided a mandate to negotiate and move toward restoration of jurisdiction in matters of education for our children. We have seen our negotiators work hard in the intervening years to provide us with an opportunity to make a difference for generations to come. Now is the time to stand up and declare to all who will listen that this is the right and only way for us to proceed.
In saying this I am asking you to be a champion for this agreement. Wherever the opportunity presents itself I would like you to speak on behalf of this agreement so that all of the Chiefs and Councils of communities that are in the ratification process leave no doubt about where they stand. I am still surprised at the number of our citizens that do not know of our process or how close we are to moving away from the Indian Act where education is concerned...CLICK HERE TO CONTINUE READING the letter from Grand Council Chief, Patrick Wedaseh Madahbee
CLICK HERE for a list of dates and locations as to when your Community Information Meetings is taking place this fall 2016.
---
Community Plan Energy Plan
Community Plan Energy Plan - July 2016 update
In the spring of 2016, Wahnapitae First Nation initiated the development of its first ever Community Energy Plan.
The purpose of the Community Energy Plan is to support the community's exploration of different renewable energy opportunities that could support a number of key community goals, including:
creating new employment opportunities
establishing new revenue sources
reducing energy costs for the Nation and members
supporting a more environmentally sustainable future
In May, sessions were held with the community, staff and Elders. The input collected has been used to help refine the scope of the Community Energy Plan, which continues to progress well.
---
Wahnapitae First Nation Commercial Lands Master Plan 2016

Letter of thanks from: Marilyn Nicholls, Economic Development Officer
COMMERCIAL LANDS MASTER PLAN FINAL REPORT.
Exploring the possibility of developing commercial land on-reserve, particularly for tourism along the lake front, has been noted as a possible economic development opportunity for Wahnapitae First Nation. In order to explore this opportunity further, Wahnapitae has undertaken the development of a Commercial Lands Master Plan to build off of the ongoing Land Use Planning process and the Community Economic Strategic Plan.
The focus of the Commercial Land Master Plan is on how to expand upon Wahnapitae's existing lands, businesses and service offerings to draw more people by addressing gaps such as:
Lack of quality lodging
Availability of equipment rentals like canoes, kayaks, stand-up paddle
boards, etc.
On-shore recreation opportunities such as mini-putt and other
amusements.
At a general level. the purpose of commercial lands planning includes:
Desire to expand commercial development on reserve
Increase revenue generation opportunities
Implement the tourism component of the Community Economic Strategic
Plan
Ensure the sustainability of existing and future business opportunities
CLICK HERE TO DOWNLOAD THE FULL DOCUMENT (NOTE, this is a very large file size and my take a few minutes to download)
---
Union of Ontario Indians Annual Report 2015-2016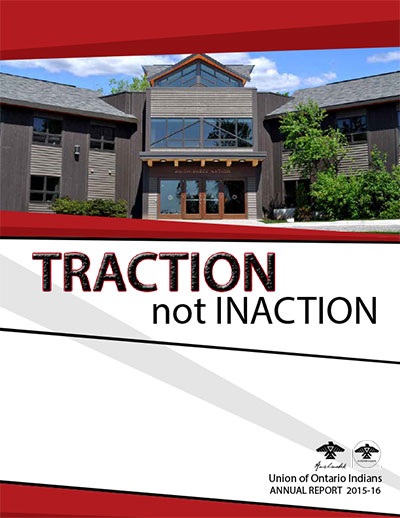 Excerpt:
MESSAGE FROM THE GRAND COUNCIL CHIEF AND THE DEPUTY GRAND COUNCIL CHIEF
Aanii Anishinabek Nation Elders, Chiefs, Councillors, and Citizens:
We would like to offer our greetings and welcome everybody to the 2016 Grand Council, here in Aundek Omni Kaning First Nation. As we reflect on the past year it is important to recognize that we continue to make progress on many key issues and we recognize that there is still much work that needs to be done. We continue to be strong as a Nation and must continue to work together for the benefit of Anishinabek Nation Citizens.
We also continue to actively pursue Anishinabek priorities with the federal and provincial governments. We currently have a great opportunity, with both levels of government sending strong signals they want to work with us and advance our issues. Governments will work with those groups who have comprehensive plans, with outcomes that are practical and which we can move forward together. To do this we need to engage our people and leaders and develop strong, disciplined positions. This is what we will concentrate on over this next year. This can't be done overnight but we have 18 months to advance our issues with the Provincial government.