Community Information
The Kinoomaadziwin Education Body At A Glance

The Kinoomaadziwin Education Body (KEB) is a not-for-profit corporation that the Anishinabek First Nations approved by Grand Council Resolution in 2010. The KEB has a 12-member Board of Directors that is made-up of representatives from the four (4) Anishinabek Regional Education Councils.
The KEB takes direction from the First Nations on the steps required to set up the Anishinabek Education System. The KEB will support First Nations in their delivery of education programs and services and liaise with the Province of Ontario on education matters when the Anishinabek Education System is operational.
When the Anishinabek Education System is operational, the KEB will receive education funding from Canada on behalf of the First Nations and distribute 100% of the program and services funding to the First Nations. The KEB will develop a budget for First Nation approval on how the funding that Canada provides to run the Anishinabek Education System will be spent.
The First Nations will work together through the KEB to identify and address the First Nation educational priorities and educational goals.
CLICK HERE to read the full notice of the The Kinoomaadziwin Education Body Next Steps document.
---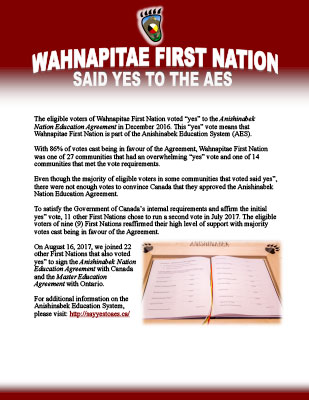 Wahnapitae First Nation voted "yes" to the AES!
The eligible voters of Wahnapitae First Nation voted "yes" to the Anishinabek Nation Education Agreement in December 2016. This "yes" vote means that
Wahnapitae First Nation is part of the Anishinabek Education System (AES). With 86% of votes cast being in favour of the Agreement, Wahnapitae First Nation was one of 27 communities that had an overwhelming "yes" vote and one of 14 communities that met the vote requirements.
---
Shagi-gamiing Nibi Bmosewin
Bass Lake Water Walk
Friday September 15, 2017
Working Together for Nibi, Mother Earth, the People & Community
General Information: Crystal Osawamick, Maawnjidmi Getting Together Planner/Helper
Email: info@maawnjidmi.com or Phone: (705) 923.4227
Potluck Feast Contribution: Lori Corbiere, WFN Cultural Coordinator (705) 858.0610 Ext.220
Bass Lake Area: Stefanie Recollet, WFN Environmental Coordinator (705) 858.0610 Ext.204
Please bring a dish for potluck and your feast bundle (reusable plate, bowl, cup, utensils)
No bottled water allowed. Miigwetch!
---
Anishinabek Nation releases official education vote results
ANISHINABEK NATION HEAD OFFICE, (Nipissing First Nation) August 30, 2017—The 23 Participating First Nations who successfully ratified the Anishinabek Nation Education Agreement celebrated the historic achievement on August 16, 2017, in Chippewas of Rama First Nation. The official results of the Anishinabek Nation Education Agreement ratification votes for these First Nations were made available today.
"This is no longer a dream! Niigaan gdizhaami – We are moving forward!" says Grand Council Chief Patrick Madahbee. "I can't help but think about our students. The people who made this happen have really done something so important for them. What we did was historical!"
---
North America Indigenous Games 2017
Amazing Performance By Nicholas Burke!
Nicholas received medals in all events that he entered
U16 Boys 4x400 RELAY Ontario BRONZE (Lex Hergott, Dallas Kooses, Keifer Scott, Nicholas Burke)
U16 Boys HIGH JUMP - Nicholas Burke - GOLD
U16 Boys 4x100 RELAY Ontario BRONZE Lex Hergott, Keifer Scott, Dylan Yzanbrandt, Nicholas Burke)
800m U16 Boys - Nicholas Burke - SILVER
300m U16 Boys –Nicholas Burke—SILVER
From all of your supporters here at Wahnapitae First Nation, We congradulate you on your great accomplishments and wish you luck in all your atheletic dreams!