About / Contact Us
ATTENTION MEMBERS
Our next Chief and Council Meeting is July 12, 2018 at 6:00 PM in the Maan Doosh Gamig.
---
WFN Community Health Unit Newsletter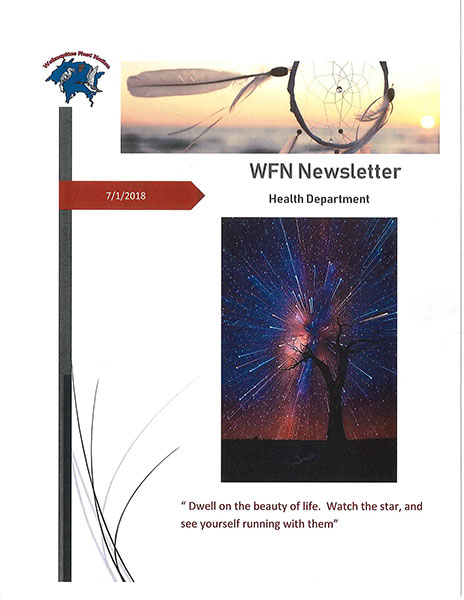 GAS BAR/STORE HOURS
Open 7 days a week 9am-7pm.
Employment & Program OPPORTUNITIES
***NEW POSTINGS!
Mine Labourer
Indigenous Studies webinar series - Contact North
Canadian Armed Forces Aboriginal Training Programs
Visit our Employment Page for more details.
In The NEWS!
Anishinabek Nation commends Moose Cree First Nation and volunteers for successful Little NHL
MISSISSAUGA, ON (March 15, 2017) – Anishinabek Nation Grand Council Chief Patrick Madahbee congratulates host community for the Little NHL - Moose Cree First Nation and the organizers, volunteers, LNHL executive and the many teams who participated.
Visit our New & Events page to read all about it!

Community Information
Bill C-61 receives Royal Assent
ANISHINABEK NATION HEAD OFFICE, Nipissing First Nation (December 15, 2017)—On behalf of the Anishinabek Nation, Grand Council Chief Patrick Madahbee would like to extend congratulations to the 23 Participating First Nations and the Kinoomaadziwin Education Body (KEB) on the Royal Assent of Bill C-61, the Anishinabek Nation Education Agreement Act.
Visit our Community Information page to read the full article!
Economic Development Opportunity
You have viewed our design concept and we have listened to your input!
Chi-Meegwetch to everyone that has provided us feedback throughout this project
We are encouraged by your views and feedback. We are listening to you and the more we hear from you the better our project will be. WFN assures you these comments will help the consultants complete the feasibility and subsequent business plan. From Muskoka chairs, to the site conditions and everything in between, every single comment is important to the project! We will do our best to answer your questions as the process unfolds, so please keep the dialogue going.
So where are we at now?