Employment/Training Opportunities
Welcome to the Wahnapitae First Nation's Employment/Training Opportunities web page.
Here you will find information on Employment/Training Opportunities as well as the application process for positions available.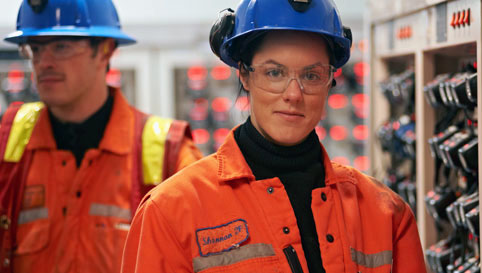 Summer Student Employment - Sudbury Integrated Nickel Operations
Students will be limited to 3 terms (maximum of 4 months per term) of summer employment. In addition to the above criteria, subsequent employment is also dependent upon previous performance evaluations.
Students must have completed their first year of post-secondary and be returning to school for full time study after summer employment. Students in their final year of study will not be considered for summer employment. High school students are not eligible to apply.
To be eligible for summer work, students must provide proof of current enrollment in school and proof of intention to return full time in the fall, on or before their start date (tuition receipts, letters from the Registrar's office confirming intent to return to school or evidence of approved course selection for the fall will be accepted by Human Resources).
Students must be able to perform the physical demands of the work and must, therefore, successfully pass the Sudbury INO – a Glencore Company Pre-Placement Medical.
CLOSING DATE: January 21, 2018
CLICK HERE for more information and how to apply.
---
"Choose Your Path Training Program"
Gezhtoojig Employment & Training in partnership with Canadore College, First Peoples Centre are seeking Aboriginal participants for the "Choose Your Path Training Program".
Unemployed participants will obtain new skills to assist in planning their career goals in twelve weeks.
Location: Shawanaga Recreation Centre
START DATE: Feb. 06, 2018 END DATE: May. 03, 2018 Time: 10:00 a.m. - 3:00 p.m.
Lunch Provided Daily
CLICK HERE for the registration form.
CLICK HERE to read the program poster.
---
Prevention Services Coordinator - Anishinabek Nation Head Office
Prevention Services Coordinator - Koganaawsawin/Social Development
Location: Union of Ontario Indians Head Office, Nipissing First Nation, North Bay, ON
OR Union of Ontario Indians Satellite Office, Curve Lake First Nation, ON
Under the direction of the Social Services Director, the Prevention Services Coordinator will be responsible for providing analysis and research on the development of a prevention services framework and funding model to support the delivery of child and youth well-being programs and services that reflect First Nation community standards and the Anishinabek Nation Child Well-Being Law.
The prevention services framework will incorporate the agency models and must ensure implementation of the child and youth well-being community models that have been developed by Anishinabek First Nations in cooperation with their respective child well-being agency.
Closing Date: Tuesday, January 30, 2018 @ 4:30 p.m.
CLICK HERE for more details and how to apply.
---
Lands & Resources Coordinator - Anishinabek Nation Head Office
The Lands and Resources Department fosters ongoing partnership with various provincial Ministry sectors related to minerals and mines, natural resources, land use, transportation and environmental issues. The key function is to collaborate and facilitate a common understanding with the exchange of knowledge, principles, relevant government policy and technical information related to each ministry sector. In addition, discuss matters, develop options, and collaborate on the resolution of issues while exploring opportunities and involvement.
The Coordinator will provide research and technical support to the regional and bilateral table process established through the Letter of Commitment between the Anishinabek Nation and the prospective Ministry sector.
Application Deadline: Friday, January 26, 2018 @ 4:30 p.m.
CLICK HERE for details and how to apply
---
Crisis Coordinator - Wikwemikong Health Centre
The NAANDWECHIGE-GAMIG Wikwemikong Health Centre is seeking a qualified and motivated individual for the position of Crisis Coordinator.
To lead and develop the Community Crisis Response Plan for all seven First Nations of Mnidoo Mnising. Initiate a process to assess the capacity and resources of communities. Ensure effective crisis response is provided in a timely manner. Provide referral services to individuals, groups and families and to promote the crisis response team.
Deadline to apply: January 23, 2018 @ 2:00pm
CLICK HERE for a full description of requirments and duties.
CLICK HERE for details on how to apply.
---
Indigenous Studies webinar series - Contact North
Online learning with personalized support in your community.
Get your degree, diploma or certificate or upgrade your skills online from Ontario's 24 public colleges, 22 public universities, 76 district school boards and 250 literacy and basic skills and training providers, without leaving your community.
For more information, call Michelle Gauthier, Online Learning Recruitment Officer, at 1-855-352-1531 or e-mail: parrysound@contactnorth.ca
For information follow us on facebook.com/ContactNorth.
---
Canadian Armed Forces Aboriginal Training Programs
The Aboriginal Training Programs are unique training and job opportunities for Aboriginal peoples from across Canada. The Forces offer three Training Programs that combine military lifestyle with cultural awareness. Bold Eagle, Raven and Black Bear.
These programs are six weeks long and will provide you with:
A taste of military training with the option with no commitment - of staying in the Forces
Training that is based on the Army Reserve Basic Military Qualification and is taught
by military instructors