Ontario Aboriginal Housing Program
Copied from the Ontario Aboriginal Housing Program website www.ontarioaboriginalhousing.ca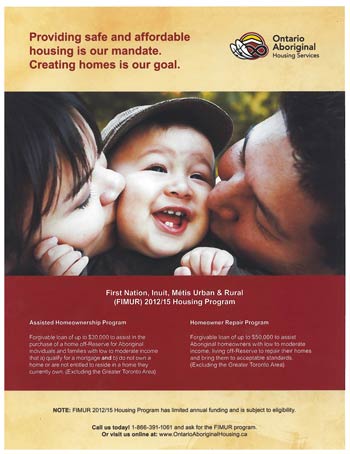 FIMUR 2012/15 ASSISTED HOMEOWNERSHIP PROGRAM
A waiting list has been maintained for this program however new applications are being accepted. Please note that priority applicants (escaping violence and/or living in social housing) are particularly encouraged to apply immediately.
The Assisted Homeownership Program provides down payment and home purchase assistance to individuals and/or families living off-reserve, outside of the Greater Toronto Area (GTA), that qualify for a mortgage and do not own a home or have interest in any real estate or those who are no longer able or entitled to reside in a home they currently own. This forgivable loan (maximum $30,000 per household) does not have to be repaid provided the successful recipient adheres to the conditions of the program for a period of 10 years.
Please read the Program Guidelines to determine if you are eligible for the Assisted Homeownership Program
Click the link for More Information
---
FIMUR 2012/15 Homeowner Repair Program
The Homeowner Repair program will assist low-to-moderate income Aboriginal homeowners living off-reserve, outside of the Greater Toronto Area (GTA), in bringing their homes to acceptable standards by:
• improving and preserving the quality of affordable housing through the renovation, rehabilitation and repair of existing affordable ownership for low-income Aboriginal households,
• repairing their home to bring to acceptable standards while improving the energy-efficiency of the unit, which includes energy audits
• fostering safe, independent living by supporting modifications and renovations to affordable housing that provide accommodations for seniors and persons with disabilities
• providing assistance to create secondary suites in existing single family homes, and
• responding to emergency repair(s)
The maximum forgivable loan is $50,000, with program average of no more than $25,000. The period of forgiveness for Home Repair projects is 10 years which begins on the date of repair completion.
For more information, please read the Program Guidelines which will also help determine if you are eligible for the Homeowner Repair Program.
Please click here to print and view Frequently Asked Questions (FAQ's)
HOW TO APPLY:
Step 1 – Click here to view and print the Homeowner Repair Application Package.
Step 2 – Review your application carefully to ensure its completion and mail the original application and requested supporting documentation to:
Ontario Aboriginal Housing Services
Attn: FIMUR 2012/15 Home Repair Program
500 Bay Street
Sault Ste. Marie, ON
P6A 1X5