News & Events
Have you found a news article about our community that you think we should share? Please send it to admin@wahnapitaefirstnation.com for consideration to be added to our website. Our community has made the news many times in recent years, and with your help, we can show community pride by sharing more of these stories.
Miigwetch
---
An important mandatory carbon monoxide alarm law reminder notice from our Fire Chief, Nolan Roque
From Hawkins-Gignac Foundation For CO EducationHawkins-Gignac Foundation For CO Education on YouTube: "Ontario's new mandatory carbon monoxide alarm law - The Hawkins-Gignac Act - requires CO alarms near all sleeping areas. This heartfelt and informative video tells the story of our mission at the Hawkins-Gignac Foundation and what every homeowner in Ontario needs to know about this new law.

Keep your family safe from the 'Silent Killer', get a CO alarm."
---
Wahnapitae's Dakota Recollet is aiming for a career in geology.
By Rick Garrick, Anishinabek News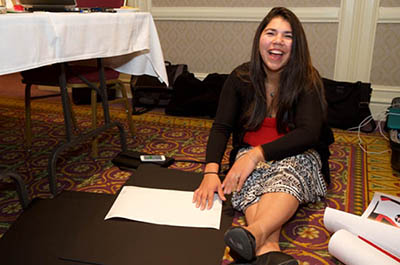 WAHNAPITAE FIRST NATION – Dakota Recollet has a long-term goal to help First Nation communities create sustainable development partnerships with mining companies similar to her own community's partnerships. CLICK HERE TO READ MORE
---
Good news from the Dream Catcher Fund
Paul Little Bear Recollet would like to acknowledge the generous support of the Dream Catcher Fund who enabled Little Bear to participate in Junior A hockey with the Rama Aces.
It is through organizations such as the Dream Catcher fund that encourages First Nation youth to follow their dreams and excel in their aspirations!
Chi-Miigwetch Dream Catcher Fund!
CLICK IMAGE TO VIEW GALLERY
First Nations mining and mineral strategies critical for engagement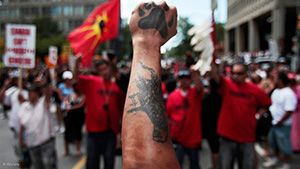 Creamer Media's Mining Weekly
By: Simon Rees, 5th May 2014
Engagement and consultation between mining and exploration companies and the First Nations is one of the most pressing issues for the Canadian sector today.
CLICK HERE to read more.
Tahgaiwinini Technical in the news!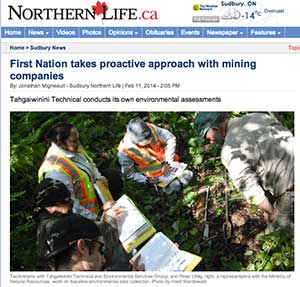 First Nation takes proactive approach with mining companies
By: Jonathan Migneault
Northern Life, Feb 11, 2014 - 2:05 PM
Technicians with Tahgaiwinini Technical and Environmental Services Group, and Peter Uhlig, right, a representative with the Ministry of Natural Resources, work on baseline environmental data collection. CLICK HERE to read more.