News & Events
Have you found a news article about our community that you think we should share? Please send it to admin@wahnapitaefirstnation.com for consideration to be added to our website. Our community has made the news many times in recent years, and with your help, we can show community pride by sharing more of these stories.
Miigwetch
Tahgaiwinini Technical in the news!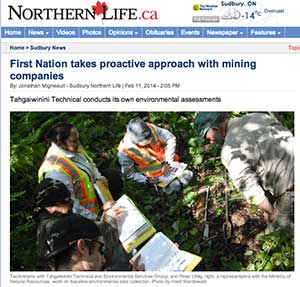 First Nation takes proactive approach with mining companies
By: Jonathan Migneault
Northern Life, Feb 11, 2014 - 2:05 PM
Technicians with Tahgaiwinini Technical and Environmental Services Group, and Peter Uhlig, right, a representative with the Ministry of Natural Resources, work on baseline environmental data collection. CLICK HERE to read more.
Mining company uses willow wall to block sound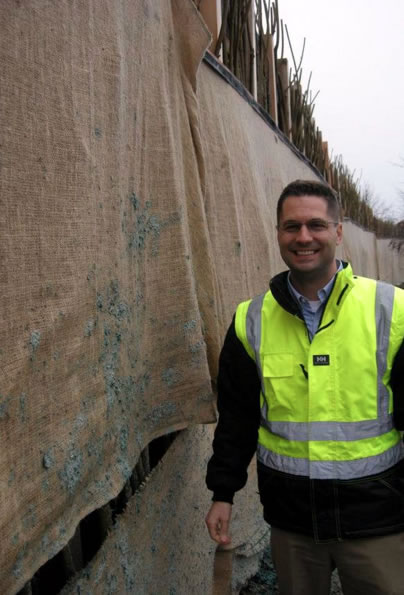 By: CBC Points North
Wednesday November 21, 2012
Xstrata in Falconbridge has created a living wall to make a nicer looking sound barrier.
Natives work with Cliffs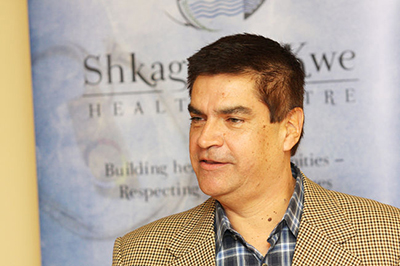 By Carol Mulligan, Sudbury Star
Thursday, October 25, 2012 6:18:14 EDT AM
Photo By: John Lappa
Members of Wahnapitae First Nation regard plans by Cliffs Natural Resources to build a chromite smelter just 20 kilo-metres from their border as an opportunity.
But the president of the Canadian Aboriginal Minerals Association, a Wahnapitae First Nation member, says they also view the plant as a threat.

That's why the First Nation, and the Canadian Aboriginal Minerals Association, are working with Cliffs on a baseline environmental review of the project, getting involved on the ground floor.

Hans Matthews has been a member of his First Nation's Mining Industry Working Group for a decade and president since the beginning of the association, which will mark its 20th anniversary with a conference in Toronto next month.
Province ups base funding for Shkagamik-Kwe Health Centre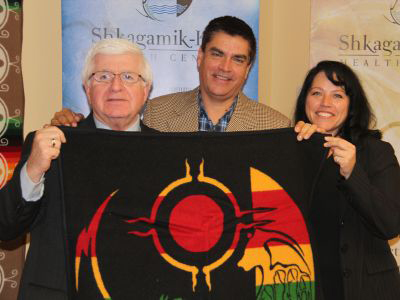 By: Heidi Ulrichsen
Sudbury Northern Life Staff
Photo by: Heidi Ulrichsen
Angela Recollect, executive director of the Shkagamik-Kwe Health Centre, and Hans Matthews, chair of the health centre's board of directors, present Sudbury MPP and Minister of Northern Development and Mines Rick Bartolucci with a blanket Oct. 23. The health centre's base funding is increasing from $1.8 million a year to $2.4 million a year.