News & Events
Have you found a news article about our community that you think we should share? Please send it to admin@wahnapitaefirstnation.com for consideration to be added to our website. Our community has made the news many times in recent years, and with your help, we can show community pride by sharing more of these stories.
Miigwetch
Province ups base funding for Shkagamik-Kwe Health Centre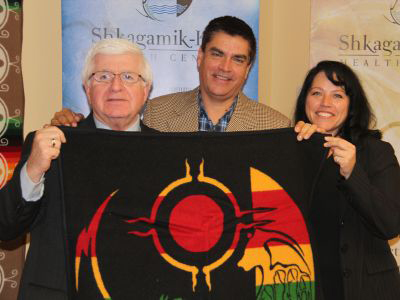 By: Heidi Ulrichsen
Sudbury Northern Life Staff
Photo by: Heidi Ulrichsen
Angela Recollect, executive director of the Shkagamik-Kwe Health Centre, and Hans Matthews, chair of the health centre's board of directors, present Sudbury MPP and Minister of Northern Development and Mines Rick Bartolucci with a blanket Oct. 23. The health centre's base funding is increasing from $1.8 million a year to $2.4 million a year.
Shkagamik-Kwe gets added boost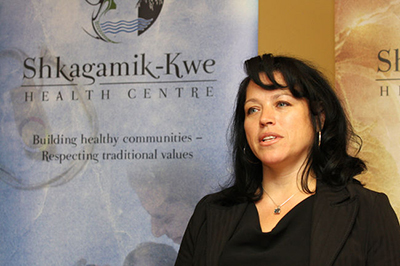 Carol Mulligan
The Sudbury Star
Wednesday, October 24, 2012 6:00:45 EDT AM
Photo by: John Lappa
Shkagamik-Kw e Health Centre got a boost Tuesday when it received an extra $450,000 in funding to serve a patient list of almost 3,000 people.

The chair of the board of the centre, Hans Matthews, said the $2.4 million in base funding the aboriginal health centre will now receive is "our vaccine."

Matthews was referencing Health and Long-Term Care Minister Deb Matthews promo-t ion of Ontarians getting annual influenza vaccinations by getting her own flu shot.

"Thanks for giving us the shot in the arm," said Matthews.
CTV News-Shkagamik-Kwe Health Centre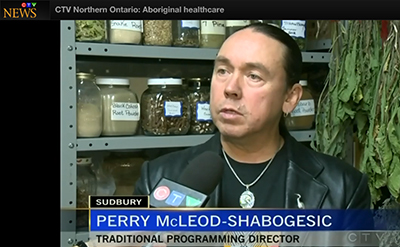 CTV News video clip. New provincial money for aboriginal health care centres.Tamara Ischenko reports.
On the road to a self-sustaining community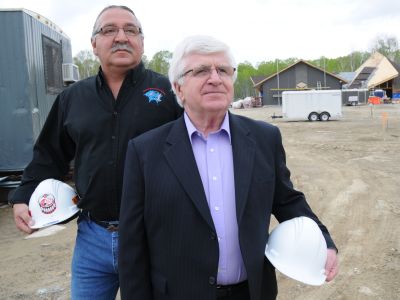 Northern Life, May 18, 2012
By: Sudbury Northern Life Staff
Photo by: Marg Seregelyi
The completion of an 8,4000-square-foot Centre of Excellence at Wahnapitae First Nation is a first step toward achieving a self-sustaining community, according to Chief Myles Tyson.

The $4-million single-storey building will not only serve as the hub for the community, it will also help create four new jobs. It will house a meeting hall, medical clinic, the community's Sustainable Development Department and a business incubator service. The province has announced it will invest $1 million for the project through the Northern Ontario Heritage Fund Corporation.