2017 Student Bursary Business Educational Award
The Waubetek Business Development Corporation student bursary was launched in 2003 to assist Aboriginal post-secondary students. This bursary is intended to aid the Aboriginal student enrolled in a Business, Accounting or Economic Development related diploma/degree program.
*Please note* - Certificate programs are not eligible to be considered
To be eligible, the application and ALL supporting documents must be received by Waubetek on or before 4:30 p.m. EST on Friday, January 27, 2017.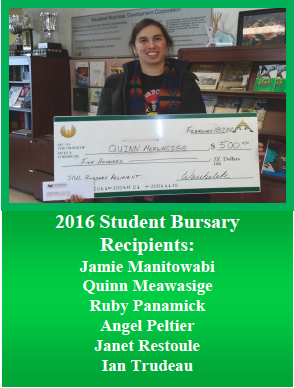 The completed application package MUST contain:
Status Indian from one of the 27 First Nation communities located in the Waubetek North East service area (clear copy of both sides of your
STATUS CARD)
LETTER of support from an Aboriginal owned business or a Professor or Instructor
Copy of your most recent TRANSCRIPT
300 word ESSAY-identifying your ideas that would further develop economic and business development in your First Nation community
Fully completed APPLICATION FORM
Original or digital PHOTO (head and shoulders) of yourself.
CLICK HERE for details on how to apply for the Waubetek Bursary