Scholarships and Bursaries
Hydro One - One Awards 2016
The One Awards acknowledge and share the ingenuity of our employees and the potential of aspiring professionals to the joint benefit of Hydro One and the people of Ontario.
We are looking for outstanding students who demonstrate the traits that make us the innovative, diverse orgranization we are.
With this belief in mind, each year Hydro One has the distinct honour of recognizing outstanding students for three awards: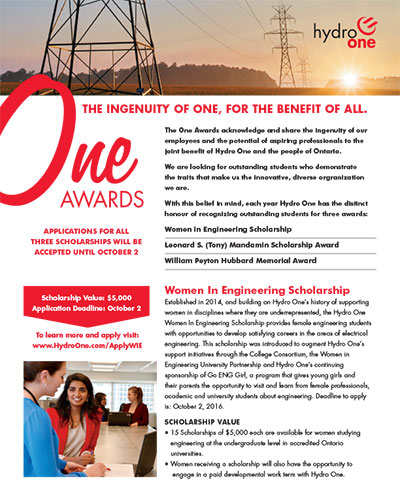 Women in Engineering Scholarship
15 Scholarships of $5,000 each are available for women studying engineering at the undergraduate level in accredited Ontario universities.
Women receiving a scholarship will also have the opportunity to engage in a paid developmental work term with Hydro One.
Leonard S. (Tony) Mandamin Scholarship Award
Up to 15 scholarships are available annually to First Nations, Métis and Inuit students attending an Ontario university or college in/or out of province.
The scholarship value is $5,000 for both college and university students
Opportunity to apply to a paid developmental work term with Hydro One
William Peyton Hubbard Memorial Award
Two awards are available annually to black students attending an Ontario university or college.
The Award value is $5,000 for a university or college recipient.
Applications for all three scholarships will be accepted until October 2, 2016
Scholarship Value: $5,000
Application Deadline: October 2, 2016
To learn more and apply visit: www.HydroOne.com/ApplyWIE
---
WFN and Sudbury Integrated Nickel Operations Scholarship Fund
Both Wahnapitae First Nations (WFN) and Sudbury Integrated Nickel Operations (Sudbury INO), a Glencore Company, believe in the importance of a good education for Community members for the betterment of both Wahnapitae First Nation and operations in the Sudbury area. Sudbury INO, through a formal agreement with WFN in 2008, has sponsored an annual scholarship fund to support post-secondary education and training programs. The scholarship fund is aimed at assisting community members of WFN to pursue careers in the mining related and mineral processing related fields.
Both WFN & Sudbury INO have established a joint Human Resources Working group to develop the criteria and mechanisms to select candidates and to administer this scholarship fund.
All requirements/documentation must be submitted together no later than September 15, 2016 to be considered in the up-coming semester & year scholarship (2016-2017).
---
2016 Student Bursary Business Educational Award
The Waubetek Business Development Corporation student bursary was launched in 2003 to assist Aboriginal post-secondary students. This bursary is intended to aid the Aboriginal student enrolled in a Business, Accounting or Economic related program.
To be eligible the application and supporting documents are to be received by Waubetek Business Development Corporation by 4:30 p.m. EST on January 29, 2016.
CLICK HERE for information poster on how to apply.
CLICK HERE for the application.
---
Gordon Roque Scholarship
Established in 2001 in memory of Mr. Gordon Roque for his contributions to the Wahnapitae First Nation community. The primary purpose of this scholarship is to financially assist individuals in fulfilling their aspirations. Scholarships will be awarded to individuals committed to the advancement and improvement of the quality of life for Native peoples.
Scholarship Details
Two Gordon Roque scholarships, each worth $500 will be awarded to Aboriginal students enrolled in post-secondary school programs.
Each scholarship is awarded for one year. For scholarship recipients to continue to receive an annual scholarship after the first year, they must re-apply annually.
CLICK HERE for more details.
---
Scholarships Bursary Listings
Scholarships & Bursaries to assist with your educational goals.
Scholarship & Bursary websites
Scholarships/Bursaries/Awards
---
Post Secondary Student Support
Get the support you need through The Glenn Crombie Centre for Student Support
To access disability-related services at Cambrian College, please bring:
Your recent IPRC or Individualized Education Plan (IEP)
Any psycho-educational assessment
Relevant medical reports
We recommend that you make an appointment with one of our Accessibility Advisors once you have decided to apply to Cambrian College.
Please call (705) 566-8101, extension 7420, at any time to ask questions or to book an appointment.
You can also email us at disabilityservices@cambriancollege.ca