Tourism, Recreation & Access
Tourism, Recreation and Access is another focus for our eco-based approach to environmental management. We recognize that there is areas that could potentially be utilized for economic opportunities.
Here is a highlight of some of our projects:
Eco-Tourism – Wahnapitae is surrounded by an abundance of picturesque lakes, flowing rivers and wilderness, there are ample opportunities to explore Eco-Tourism. WFN is currently assessing the feasibility of an Outfitting & Outdoor Guiding Company which will provide environmentally conscious economic growth and job creation for WFN.
In the summer of 2014 WFN Staff completed Business Development Training through Waubetek Development Corporation. Goals going forward are to secure funding for equipment, training, and employees.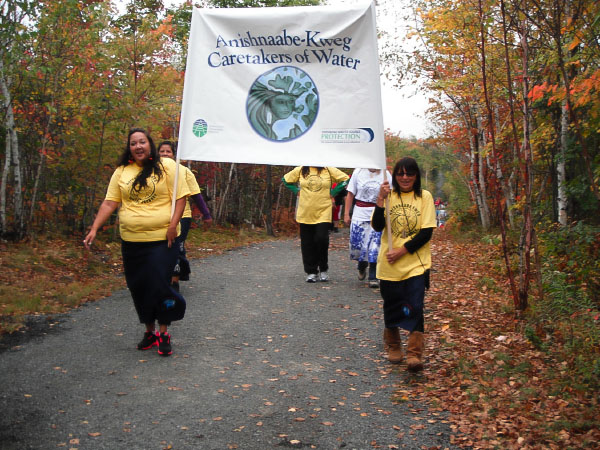 Bass Lake Sanctuary – Bass Lake is the only lake completely contained within WFN Reserve lands and thus is the utmost importance to the people of WFN. This area has been dedicated as a pristine area and is recognized for its cultural significance. A group of local youth have been developing the Bass Lake trail since 2012. The Land Use Plan prohibits intensive development in the area so the developers have been careful in the design; existing bridges and rest areas were all constructed using the natural materials from their trail clearing efforts.
The Bass Lake Trail will promote community health & wellbeing as well as provide a space for recreational, educational and spiritual use.
Bass Lake Sanctuary Trail Development includes:
Surveys, Signage
Management Plan
Rest areas developed
Medicinal plants identified and located
GPS trail
Heritage signage
Bass Lake Dash – successfully applied for funding through Ontario Indigenous Youth Partnership Program (OIYPP) and held the event in the spring of 2015. The race was an effort to fundraise to build a bridge to complete the track loop making the trail accessible year round to promote fitness, outdoor activity and eventually WFN's first Water Walk.
Campground Visual Survey - A general Campground Visual Survey was conducted at most sites during the summer of 2013, to help identify any potential environmental concerns and to help guide any future surveys or studies on the campgrounds.