First Nations Water Declaration In Ontario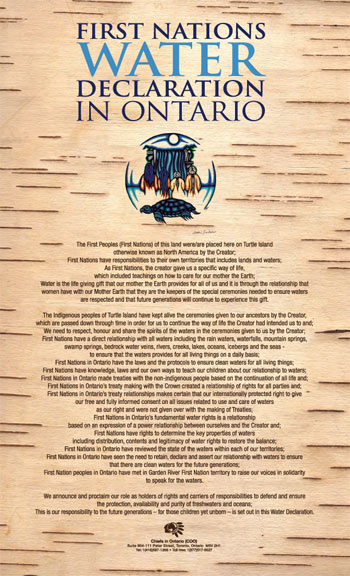 The First Peoples (First Nations) of this land were/are placed here on Turtle Island otherwise known as North America by the Creator;
First Nations
have responsibilities to their own territories that includes lands and waters; As First Nations, the creator gave us a specific way of life, which included teachings on how to care for our mother the Earth; Water is the life giving gift that our mother the Earth provides for all of us and it is through the rela!ionship that women have with our Mother Earth that they are the keepers of the special ceremonies needed to ensure-waters are respected and that future generations will continue to experience this gift.
The Indigenous peoples of Turtle Island have kept alive the ceremonies given to our ancestors by the Creator, which are passed down through time in order for us to continue the way of life the Creator had intended us to and; We need to respect, honour and share the spirits of the waters in the ceremonies given to us by-the Creator.
First Nations have a direct relationship with all waters including the rain waters, waterfalls, mountain springs, swamp springs, bedrock water veins, rivers, creeks, lakes, oceans, icebergs and the seas to ensure that the waters provides for all living things on a daily basis.
First Nations in Ontario have the laws and the protocols-to ensure clean waters for all living things; First Nations have knowledge, laws and our own ways to teach our children about our relationship to waters;
First Nations in Ontario made treaties with the non-indigenous people based on the continuation of all life and; First Nations in Ontario's treaty making with the Crown created a relationship of rights for all parties and; First Nations in Ontario's treaty relationships makes certain that our internationally protected right to give our free and fully informed consent on all issues related to use and care of waters as our right and were not given over with the making of Treaties;
First Nations in Ontario's fundamental water rights is a relationship based on an expression of a power relationship between ourselves and the Creator and;
First Nations have rights to determine the key properties of waters including distribution, contents and legitimacy of water rights to restore the balance;
First Nations in Ontario have reviewed the state of the waters within each of our territories;
First Nations in Ontario have seen the need to retain, declare and assert our relationship with waters to ensure that there are clean waters for the future generations;
First Nation peoples in Ontario have met in Garden River First Nation territory to raise our voices in solidarity to speak for the waters.
"We announce and proclaim our role as holders of rights and carriers of responsibilities to defend and ensure
the protection, availability and purity of freshwaters and oceans;
This is our responsibility to the future generations - for those children yet unborn - is set out in this Water Declaration."
Click here to download the full PDF version