Aanii - Welcome to the Wahnapitae First Nation website.
Our traditional name is Wahnapitaeping "That place where the water is shaped like a molar tooth".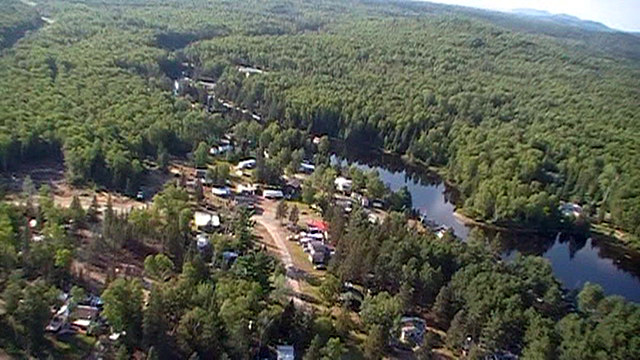 Our vision for this website is to provide information to our band members, stakeholders and others interested in our community. We are proud of our rich heritage and culture and want to share that information with you.
The site will hold a wealth of accurate information about Wahnapitae First Nation and our history as well as additional up to date information in our members section.
We invite you to comment on what you see here as well as provide us with suggestions to provide a balanced website experience for you.
---
Post Secondary Education Assistance Program Committee Vacancy
Chief and Council formed a Post Secondary Education Assistance Program Committee back in 2016. The committee consists of 5 members which include Portfolio Holder, Education staff member, person from industry, and two members from the community. At this time, we have a member/community member vacancy on the committee.
If you are interested in sitting on this committee, please send a letter of how your experience can benefit this committee. The Committees main focus is the review and approval process of Post-Secondary applications based on the Post-Secondary Education Assistance Program Policy.
You can send your letter of interest to attention Marilyn Nicholls Education Support Worker, you can also email me your letter at email: Marilyn.nicholls@wahnapitaefn.com.
---
WAHNAPITAE FIRST NATION 23rd
ANNUAL TRADITIONAL POW WOW
Mnaajaadanik Emaakzijik - Honouring Our People with Disabilities and Special Needs
AUGUST 18 & 19, 2018

Grand Entry will be at 12:00pm
Registration is Daily Sat and Sun
Open at 10:00am Close at 1:00pm - Regalia must be worn upon registration
Fun & Games for Everyone!
Head Staff
Host Drum: Goodtime Ojibway
Co-Host Drum: Big Train
MC: Gerard Sagassige
Arena Director: Robert Stoneypoint
Head Elder: Rene Thomas-Hill
Head Veteran: TBD
Head Male Dancer: Tim McGregor
Head Female Dancer: Maretta R Jones
Head Youth Male Dancer: Tanner Southwind
Head Youth Female Dancer: Jade Prentice
Healing Dance
There will be a Jingle Dress Special Saturday and Sunday, this healing dance will be performed and then there will be a giveaway on Sunday for our Jingle Dress Dancers.
Fireworks show on Sat night at 10:00pm by Dreamcatchers Fireworks.
Absolutely no Drugs or Alcohol - Rough camping will be available - Please no pets allowed
If you have any questions or vending registration please feel free to contact Lori Corbiere, Cultural Coordinator at (705) 858-0610 ext.213 or email: cultural@wahnapitaefn.com

---
PowWow 2018 - Corporate Sponsorships
Our community is celebrating our 23rd Annual Traditional Pow wow on August 18th & 19th 2018. This year the Theme will be "Mnaajaadanik Emaakzijik", Honouring Our People with Disabilities and Special Needs.
Wahnapitae First Nation would like to know if your organization would take part in contributing by donating funds or gifts. as well as promoting our cultural event by having available handouts and or a poster for your employees. family, friends, customers and clients.
Any donations will be contributing and assisting in our Giveaways and specials that we have during our festivities. All sponsors and contributors will be acknowledged on our Facebook page WFN Pow wow 2018.
Any further information please feel free to call the above number and ask for Lori Corbiere Phone: (705)858-0610 at ext. 213. or email: cultural@wahnapitaefn.com
---
About / Contact Us
WFN and Sudbury Integrated Nickel Operations Scholarship Fund
Now accepting applications for the 2018-2019 School year!
Both WFN & Sudbury INO have established a joint Human Resources Working group to develop the criteria and mechanisms to select candidates and to administer this scholarship fund.
VISIT THE SCHOLARSHIP PAGE for more information!
WFN Community Health Unit Newsletter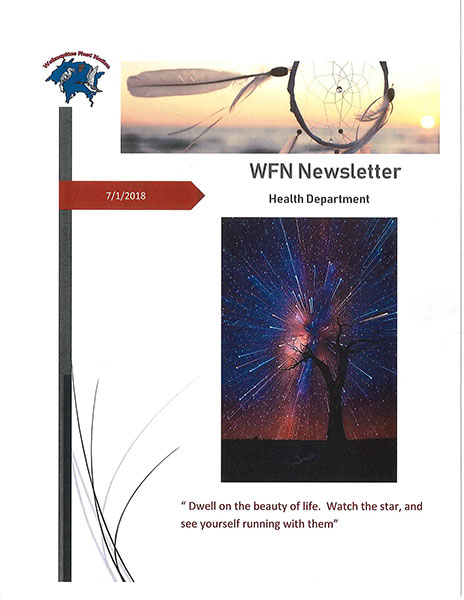 GAS BAR/STORE HOURS
Open 7 days a week 9am-7pm.
Employment & Program OPPORTUNITIES
***NEW POSTINGS!
Lands and Resources Program Coordinator
Geographic Information System (GIS) Projects Coordinator
Line Crew Ground Support Training
Mine Labourer
Indigenous Studies webinar series - Contact North
Canadian Armed Forces Aboriginal Training Programs
Visit our Employment Page for more details.
In The NEWS!
Anishinabek Nation commends Moose Cree First Nation and volunteers for successful Little NHL
MISSISSAUGA, ON (March 15, 2017) – Anishinabek Nation Grand Council Chief Patrick Madahbee congratulates host community for the Little NHL - Moose Cree First Nation and the organizers, volunteers, LNHL executive and the many teams who participated.
Visit our New & Events page to read all about it!

Community Information
Bill C-61 receives Royal Assent
ANISHINABEK NATION HEAD OFFICE, Nipissing First Nation (December 15, 2017)—On behalf of the Anishinabek Nation, Grand Council Chief Patrick Madahbee would like to extend congratulations to the 23 Participating First Nations and the Kinoomaadziwin Education Body (KEB) on the Royal Assent of Bill C-61, the Anishinabek Nation Education Agreement Act.
Visit our Community Information page to read the full article!
Economic Development Opportunity
You have viewed our design concept and we have listened to your input!
Chi-Meegwetch to everyone that has provided us feedback throughout this project
We are encouraged by your views and feedback. We are listening to you and the more we hear from you the better our project will be. WFN assures you these comments will help the consultants complete the feasibility and subsequent business plan. From Muskoka chairs, to the site conditions and everything in between, every single comment is important to the project! We will do our best to answer your questions as the process unfolds, so please keep the dialogue going.
So where are we at now?